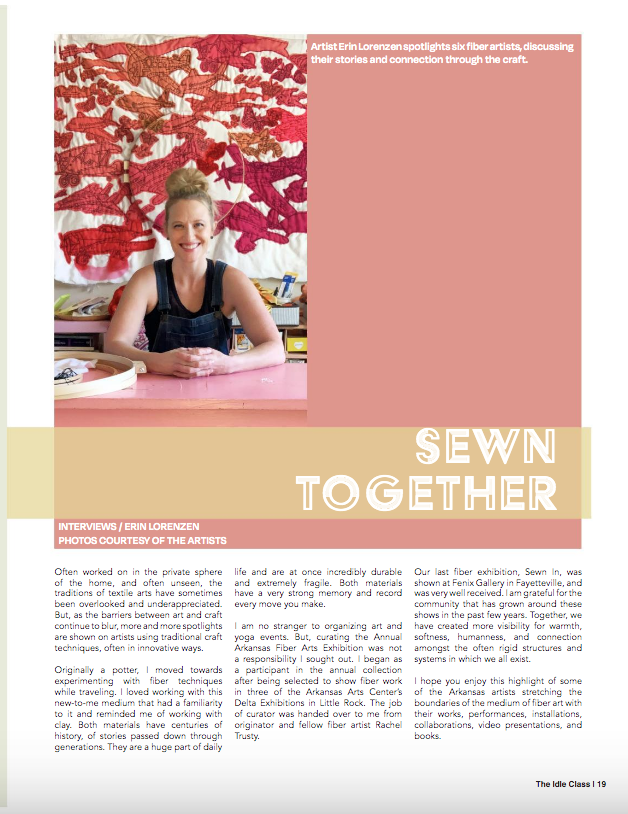 Often worked on in the private sphere of the home, and often unseen, the traditions of textile arts have sometimes been overlooked and underappreciated. But, as the barriers between art and craft continue to blur, more and more spotlights are shown on artists using traditional craft techniques, often in innovative ways.
 Originally a potter, I moved towards experimenting with fiber techniques while traveling. I loved working with this new-to-me medium that had a familiarity to it and reminded me of working with clay. Both materials have centuries of history, of stories passed down through generations. They are a huge part of daily life and are at once incredibly durable and extremely fragile.
I am no stranger to organizing art and yoga events. But, curating the Annual Arkansas Fiber Arts Exhibition was not a responsibility I sought out. I began as a participant in the Annual Collection after showing Fiber Work in three of the Arkansas Arts Center's Delta Exhibitions in Little Rock. The job of curator was handed over to me from originator and fellow fiber artist Rachel Trusty.
 Our last fiber exhibition, Sewn In, was shown at Fenix Gallery in Fayetteville. Over 30 Artists from across the state and beyond have participated in the exhibitions to date. I hope to include even more artists in upcoming exhibitions and am grateful for the connection and community these shows have created in the past few years.
 Together, we have created more visibility for warmth, softness, humanness, and connection amongst the often rigid structures and systems in which we all exist.
 I hope you enjoy this highlight of a few artists in the community who are currently living and working in Arkansas. They are stretching the medium of fiber art in their works, performances, installations, collaborations, video presentations, and books.
 If you are interested in participating in future Fiber Arts Exhibitions, email me at arkansasfiberarts@gmail.com. Check out these social media and webpages for photos of past events and exhibitions.
Erin Lorenzen
erinlealorenzen.com
shopell.squarespace.com
Instagram.com/la_erinita
facebook.com/erinlealorenzen
FIND INTERVIEWS WITH FIBER ARTISTS IN THE FULL ARTICLE